BP profits soar as calls for windfall tax grow
BP's profits for the first three months of this year have more than doubled after oil and gas prices soared.
The energy giant reported an underlying profit of $6.2bn (£4.9bn) compared to $2.6bn in the same period last year – ahead of expectations.
BP said the increase was due in part to "exceptional oil and gas trading".
Rising profits have prompted calls for a one-off windfall tax on energy companies to help UK households grappling with rising bills.
This type of charge targets firms that are lucky enough to benefit from something they were not responsible for – in other words, a windfall.
BP's profits have been driven by a sharp rise in oil prices, initially led by increased demand as economies reopened following Covid lockdowns. Last November, BP chief Bernard Looney described the energy market as "a cash machine".
Oil prices rose further after war broke out in Ukraine and western countries imposed sanctions on Russia following its invasion. Russia is the second biggest exporter of crude oil, and is also the world's largest natural gas exporter.
UK inflation is currently at its highest rate for 30 years, lifted by the rising cost of oil and gas which has inflated fuel prices as well as the cost of household energy.
Labour leader Sir Keir Starmer told the BBC that BP's profits – which beat analysts' expectations of $4.5bn – "reinforce the case that we've been making which is that, with so many people struggling to pay their energy bills, we should have a windfall tax on oil and gas companies in the North Sea who have made more profit than they were expecting".
Italy has said it will increase its tax on energy companies' windfall profits from 10% to 25%, but the UK government is not in favour of such a charge.
Prime Minister Boris Johnson said a windfall tax would hamper investment and keep oil prices higher over the long term.
He told ITV: "If you put a windfall tax on the energy companies, what that means is that you discourage them from making the investments that we want to see that will, in the end, keep energy prices lower for everybody."
Liberal Democrat leader Ed Davey said energy companies should "pay a little more to help the most vulnerable".
"The Conservative government's refusal to introduce a windfall tax on the super profits of oil companies is becoming impossible to justify," he said. "BP is raking in eye-watering profits while millions of people struggle to pay the bills."
Chancellor Rishi Sunak has previously said he would explore a windfall tax policy if companies did not invest enough in the UK's energy supply.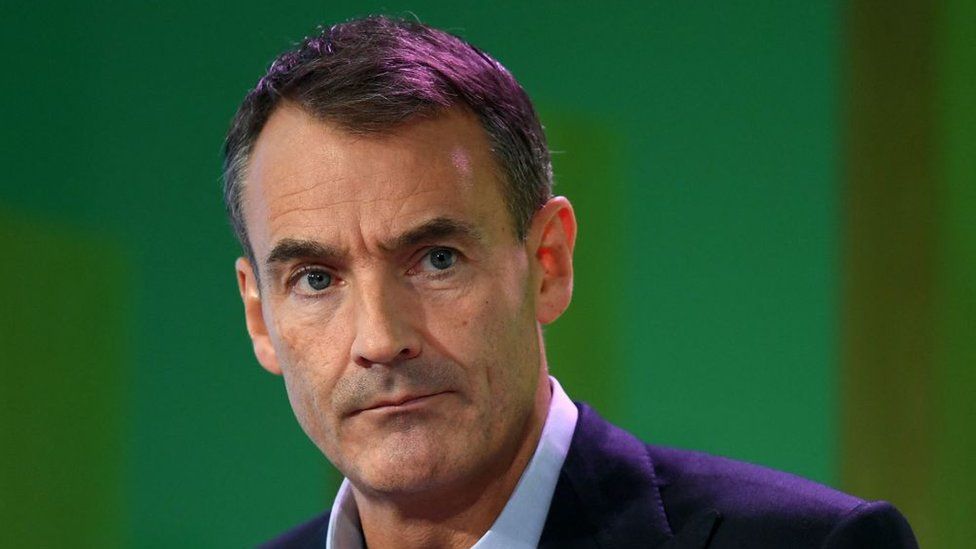 On Tuesday, BP announced plans to invest £18bn in green and fossil fuel operations in the UK by the end of the decade.
But it also said it would buy back another $2.5bn of its shares and keep dividends – payments to shareholders – at 5.46 cents a share.
BP says it expects to pay £1bn in taxes for its 2022 North Sea profits, on top of around £250m that it has paid annually in other taxes in the UK in recent years.
Mr Looney said: "We're backing Britain. It's been our home for over 110 years, and we've been investing in North Sea oil and gas for more than 50 years.
"We're fully committed to the UK's energy transition – providing reliable home-grown energy and, at the same time, focusing on the drive to net zero."




BP's promise to invest £18bn in UK over the remainder of this decade and its estimate it will pay about a billion pounds in UK tax this year seems to have headed off the threat of being hit by a windfall tax.
While the £18bn figure is just totting up investments already planned, it is a larger proportion of their global investment than in previous years. While the final decision on tax is the chancellor's, the investment was welcomed by the business secretary and the prime minister again played down talk of a swoop on oil and gas profits.
Opposition parties are not convinced and pointed to BP's target of using 60% of excess profits to buy back shares and the rest to pay down debt. With Shell expected to post even higher profit numbers later this week, the debate is sure to continue.


'Political pressure'
Russ Mould from investment platform AJ Bell said it was "no surprise" to hear BP pledging billions of pounds worth of investment in projects to boost domestic energy security.
"Whether this will be enough to stave off a new levy remains to be seen. The political pressure to do so is only likely to escalate as the cost of living continues to surge in the UK," he said.
Nick Butler, a former vice president at BP, told the BBC's Today programme it was possible the government would impose a greater tax burden on the energy giant.
The visiting professor at Kings College London said: "I think the company can answer that by showing that they are actually contributing to energy security."
BP said it had taken a $24.4bn hit on its decision to exit its shareholding in Russian energy giant Rosneft following the Kremlin's assault on Ukraine.
Including the cost of exiting its 19.75% shareholding in Rosneft, BP reported a loss of $20.3bn for the first quarter.
"In a quarter dominated by the tragic events in Ukraine and volatility in energy markets, BP's focus has been on supplying the reliable energy our customers need," said Mr Looney.
He added that the oil market would continue to be volatile and he did not expect "any let off on prices any time soon".
Rival energy giant Shell is scheduled to report its results for the first quarter of the year on Thursday. – bbc.com